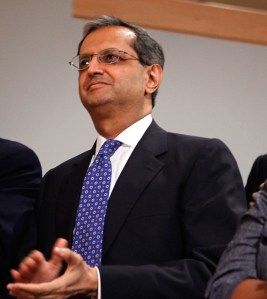 Just as fellow enormous bank JPMorgan Chase did last week, Citigroup reported solid third-quarter earnings today. And like JPMorgan Chase, the bank suffered from slight weakness on the revenue side and bolstered profit by reducing the amount of cash it set aside to protect against losses on its loan portfolio.
The company's bottom line of a $2.2 billion profit beat expectations and trumped the $101 million the company raked in a year ago. Revenue fell from $22 billion in the second quarter of 2010 to $20.7 billion in the third quarter. Unlike JPmorgan Chase CEO Jamie Dimon, Citi CEO Vikram Pandit stayed focused on the company rather than stray into what Citigroup can do for the national economy. He expressed pride that the company has racked up three quarters of profitability. He also said that he was focused on reducing the size of Citigroup's Citi Holdings segment. Citi Holdings is the segment of Citigroup that holds assets the company wants to sell.
The government now owns about a 12 percent stake in Citigroup.
On the foreclosure-crisis front, Citigroup has said it's confident in its foreclosure procedures. The company hasn't joined other firms, like Bank of America and JPMorgan, in suspending foreclosures. Attorneys general in all 50 states are investigating the legality of foreclosures by major banks amid reports that bank employees falsified documentation related to home seizures. For a little background, check out our Eight Head-Shaking Foreclosure Horror Stories.
We can expect analysts to raise a few questions about Citi's decision to plow ahead with foreclosures during the company's earnings conference call later today. Stay tuned!