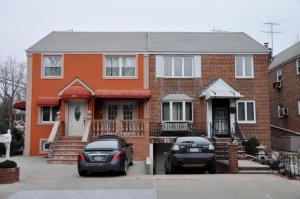 It's been a banner week for the city's biggest borough. On Tuesday, the Landmarks Preservation Commission approved a new historic district in Ridgewood covering 210 buildings, with four individual landmarks nominated across Queens as well, from a church in Flushing to a bank in Jamaica.
The following day, the City Council approved the biggest rezoning in Queens history, covering 418 blocks in the neighborhoods of Auburndale, Oakland Gardens and Hollis Hill, almost all of it a downzoning intended to preserve small-scale detached family homes and low-rise apartment buildings–in other words, the borough's well-known suburban lifestyle.
And the fun doesn't end there. Landmarks is now working on a 900-building district in central Ridgewood and the City Planning Commission is preparing to move forward on an even bigger rezoning in South Jamaica covering more than 500 blocks.
Much of this is a reaction to the building boom, an effort to protect neighborhoods that saw out-of-scale development, particularly those notorious finger buildings. Yet with a million more people predicted to move to the city over the next 20 years, do such shrinkage plans really work? A large piece of New York's success is its wonderful density.
Yet diversity is also crucial. Nothing ruins a neighborhood's charm faster than an over-sized, out-of-place building.
Still, when rents continue to rise, even in the middle of a recession, the decision to limit development, particularly in middle- and upper-class neighborhoods (see: brownstone Brooklyn) can be a difficult one. In a way, it creates an impossible scenario, encouraging a sort of sprawl within the confined space that is the five boroughs. The city is running out of affordable neighborhoods. With the ARC Tunnel dead and the MTA continually cutting service, there's nowhere left for New Yorkers to go.
The Department of City Planning sees this as a balancing act, a challenging one at that, to create a fine-grained map for the future development of the city. Whether it can be pulled off remains to be seen. After all, a good bit of density has been added to places like Long Island City, Astoria and central Jamaica near the AirTrain. The big question remains whether it has been enough.
If New York is not careful, the city could end up just like Paris, a calcified, cantankerous caricature of itself. At the very least, these latest efforts point to Queens' continued un-gentrify-ability.
Where's Paul Rudolph and Robert Moses when you need them?