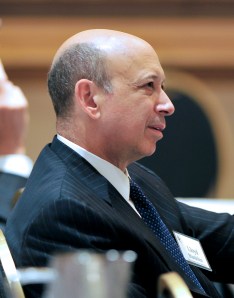 After launching an ad campaign that paints the firm as a cuddly, job-creating bastion of do-goodery and progress, Goldman Sachs is now trying to improve its relationships with its clients. That's commendable, but not really necessary, because although they don't trust Goldman, the investment bank's clients don't seem to mind the prospect of getting ripped off.
The Wall Street Journal reports that Goldman has enlisted Boston Consulting Group, an outside firm, to evaluate the company's relationship with clients. And Bess Joffe, former shareholder advocate at Hermes Equity Ownership Services, now works at Goldman. Historically, she's been an advocate of improved corporate transparency. She took part in the move to strip former Bank of America CEO Ken Lewis of his chairman title. After reminding us of Joffe's activities at Bank of America, The Journal says, portentously:
Mr. Blankfein is chairman and CEO of Goldman. Earlier this year, the firm's shareholders voted against a proposal to split the roles. Goldman had recommended shareholders reject the proposal.
But before Goldman starts sweating it too much, it's important to recognize what seems to be the overall client attitude, as expressed by the New York Post, "[M]any institutional clients view Goldman — which routinely leads the league in areas such as mergers and acquisitions, investment banking and trading — as a firm with which they must do business, whether they want to or not."
Even The Journal pulls back from speculation that Blankfein may fall by the end of the piece. "Goldman's shareholders, board and clients have supported Mr. Blankfein through the crisis."