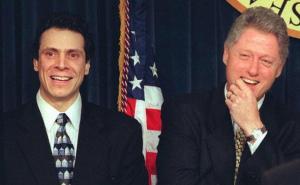 Bill Clinton will be in Brooklyn tomorrow, helping rally the Democratic base for his former HUD Secretary, Andrew Cuomo.
Clinton has been hitting the hustings rather hard for Democrats this year. At a fundraiser for Senator Kirsten Gillibrand on Sunday, he told the crowd it was his 100th event of the election season.
And he's been particularly active in New York. He'll be coming to John Jay College from Long Island, where he'll be stumping for Congressman Tim Bishop. And he just lined up a second event for endangered Congressman John Hall, in addition to appearances for the Democrats trying to hold on upstate.
Cuomo might not need the help, but the more Democrats who turn out for Cuomo, the more Democrats everywhere stand to gain.
And besides, they're old friends. Clinton was one of Cuomo's early mentors, and when Cuomo bowed out of his first governor's race in 2002, it was Clinton who made a face-saving appearance at the announcement, in which he praised Cuomo for acting in the best interest of the party.