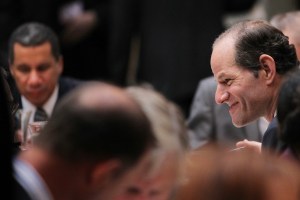 CNN plans to keep tinkering with Parker Spitzer and give the show time to grow before they give up on it competely.
Audience numbers for the first few episodes of the show were a fraction of ratings for the 8 p.m. competition on MSNBC and Fox News, Keith Olbermann and Bill O'Reilly. "We weren't in this for the first night. We're in this to launch and to let it grow," a vice president of programming at CNN told The Wall Street Journal. Ratings for Parker Spitzer already started to grow by the end of the first week.
CNN executives are sending notes every day to the Parker Spitzer production team about how to make the show better. One of the first steps was getting a bigger table for some of the segments. After the first episode, Time television critic James Poniewozik expressed concern about the initial size of the table on the show. "The new she-said-he-said show, Parker/Spitzer, opened last night with the two hosts and a gaggle of guests crowded together around a round table the size of a medium pizza and, ugh, it was just too close," he wrote.
The biggest change to show so far, however, has probably been the ouster of CNN U.S. president Jon Klein, who was taking a hands-on role with the launch of the show. Gabe Sherman reported last week that Jim Walton stopped Mr. Klein while he was on his way to watch a Parker Spitzer rehearsal at the end of the summer and fired him in a five-minute conversation.