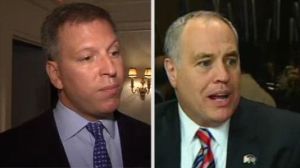 We are off here at Pace University for the first debate between comptroller candidates Harry Wilson and Tom DiNapoli.
They begin with opening statements. Wilson goes first. "Our state is in the early stages of a massive fiscal crisis," one brought on he says by "career politicians." Touts his experience in turning around General Motors.
DiNapoli goes next, says the choice is between "middle class values" and "Wall Street values." Says office was a mess when he inherited it. Says, "New York deserves better than Wall Street values." Both of these guys going on the attack early.
7:03: Wilson talks about history as an investor, working class background.
DiNapoli: Says he was always in favor of greater fiscal restraint. Wants to align spending and revenues. "My opponent talks about his experience." Says he doesn't know if being a part of a failed billion dollar industry is great experience
7:05: Grace Rauh asks DiNapoli if Shelly Silver can be considered a reformer. DiNapoli defends the way he became comptroller. Rauh reiterates question. DiNapoli says, "this race is not about Speaker Silver."
Rauh asks Wilson if he is distancing himself from Paladino. Says the comptroller needs to be independent, and so he has not endorsed any candidates for any office.
7:08: Dick Dadey asks about the Hevesi scandal, and placement agents. Wilson wants to extend the bans that DiNapoli put into place against placement agents, says he would expand ban to include trial lawyers. Makes a crack, says pension fund is really big, but has gotten smaller under DiNapoli. DiNapoli touts his own ban, says it won't lead to higher contributions by taxpayers. Wilson says he supports DiNapoli's ban.
7:11 Liz Benjamin wonders, "How come so few New Yorkers know who you are?" Question is for DiNapoli, who says the media doesn't pay enough attention to their work. "I don't think its a question of how often your name registers in a poll…I am very confident that what we are doing serves the people's interest."
Wilson says no one knows who DiNapoli is is because he has been "insufficiently vigilant in protecting taxpayers." DiNapoli says this is not the office that sets the tax-policy for the state.
7:16: Says spending and taxes are too high, says comptroller should use audit power to root out fraud and waste. DiNapoli is asked what he would do to sput economic development. Talks about venture capital funds for companies that want to stay in New York. "When we put our money on the table, other money follows." Wilson talks about VC funding in California
7:19 Cross-examination time! Wilson says you spent 20 years in the Assembly, were passed over by a bipartisan commission and have been criticized by Spitzer, Cuomo, and Paterson. How are you qualified?
DiNapoli says that when people in your own party criticize you it is "a badge of pride." Says office has been under investigation since before he got there. Wilson insists that it is DiNapoli, not the office under investigation.
DiNapoli asks Wilson about tax loopholes that he supports that DiNapoli says favor hedge funds. Wilson says he doesn't want to raise taxes, period. "The fundamental problem in Albany is that we spend too much money, not that we don't tax enough." DiNapoli mentions "you're type of folks."
Wilson asks him how many voters elected him comptroller. DiNapoli snaps, "A lot more will be voting for me in November."
DiNapoli is asked about extending Bush-era tax cuts. Ducks it a bit, says not focus of comptroller's office, calls for a property tax cap. Wilson says he is against new taxes, period.
DiNapoli: I voted for funding for schools and hospitals. Blames Wall Street for killing revenues, i.e. people like Wilson.
Wilson is asked about boycotting Arizona. Says pension fund should not make political statements if it hurts taxpayers. DiNapoli says he takes umbrage. Wilson: public asssets should not be used to benefit politicians.
7:29: Liz asks about divestment from Iran, asks where else they would divest from. DiNapoli says pension fund should not invest in companies that are involved in war-torn regions like Sudan. Wilson agrees, but says he would take it a step further, wants to reduce risk of pension fund. Liz smartly asks difference between Arizona, which Wilson says is political posturing, versus this stand. Wilson says genocide and Iran are different.
7:32 Dick Dadey asks about other states which dont put the whole investment strategy upon one person. Wilson wants to add a series of investment committees. DiNapoli says he would be afraid of the kind of investment committee that Wilson would put together, since it would just be his buddies from Wall Street. Wilson says that a number of people DiNapoli put on his investment advisory committee come from Wall Street, and that people left because he didn't know what he was doing. DiNapoli says it's inappropriate for Wilson to impugn his integrity, says his life in public serivce is an open book. DiNapoli doesn't look pleased.
7:37: Grace Rauh asks about the stimulus and the financial bailout. DiNapoli is generally favorable to both, says we need more investment in infrastructure. Wilson: DiNapoli spends al his time talking about how my friends and I wrecked the economy. "I had no idea I was so powerful." Wilson says he is against the stimulus bill. DiNapoli again brings up Wilson's previous employer, says you were part of that great wizardry on Wall Street "that made millions of dollars on the backs of regular people." They are talking over each other
7:42: Lighting round. Both think there should be a special election to replace vacant comptroller. DiNapoli has been in a casino in past year, Wilson has not. Both have never bounced a personal check, both think abortion should be legal. Neither have ever seen "Mad Men." DiNapoli is against term limits, Wilson is for them. Wilson has a metrocard in his pocket right ow, DiNapoli does not. Neither have been arrested. Wilson does not favor a full-time legislature, DiNapoli does.
7:45 Grace Rauh asks a silverpoint question. Oh boy. Asks DiNapoli about Cuomo's investigation and why Cuomo hasn't endorsed him yet. DiNapoli says he isn't running to be the governor's comptroller.
748: Dadey asks if there is anything the comptroller can do to improve the state's budget process. DiNapoli says not comptroller's responsibility, but talks about GAAP budgeting, multi-year budgeting. Says he job is sound the alarm when the spending is out of control.
Wilson says DiNapoli seems like a nice guy, but is a 24-year veteran of Albany and stuck in his thinking. Says the comptroller has to be the primary watchdog for the budget process. DiNapoli says that is what we have done. Says you have to use office as a bully pulpit.
7:51: DiNapoli: This notion that we have this massive pension problem is one that creates fear in people, especially retirees, and is unnecessary.
7:53: Final question. Should legislators provide comptroller's with all of their receipts while they are in session? DiNapol says legislature is an independent branch of government, there is not much that you can make them do. Wilson says of course they should provide receipts. DiNapoli calls Wilson's remarks a cheap shot.
Closing Remarks: Calls himself a sucessful businessman who has turned around failing businesses, wants to do same for state. Calls DiNapoli a career politician. DiNapoli calls Wilson "one of the Don Juans of Wall Street." Says he has reformed the office.
Onto the spin room!!