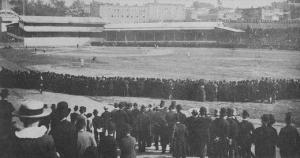 Depending on whom you ask, the greatest tragedy to ever befall Brooklyn was the loss of the Dodgers to LA. But thanks to some internet sleuths, a piece of Dodger history on the shores of the Gowanus Canal has been saved.
Earlier this year, Gothamist began snooping around a wall on Third Avenue that many people believed to be part of Washington Park, the borough's first ballpark and the Dodgers' original home. The wall is now part of a Con Edison facility,

and the utility had plans to demo the building. Uproar ensued, the Landmarks Preservation Commission got involved, and while no specific protections have been conveyed, Con Ed has promised to preserve the historic parts of the structure.
Yesterday, a Gothamist reader was passing by and noticed demo work going on and feared the worst, as did Gothamist. Fortunately, Con Ed promises they are not taking down any part of the Washington Park wall. But we fear what would have happened were it not for those eyes on the street, to say nothing of the eyes on the web.
The Times wrote about the closure of Washington Park–it was replaced by the far more famous Ebbetts Field, which was replaced by housing projects in the 1960s when the Dodgers went West–in 1912: "The Giants concluded a season's pastiming by saying good-bye and good luck to the Dodgers in a 1 to 0 game at Washington Park yesterday. Then they closed up the park forevermore. Pass the kerchief, pitase, and catch the tears." They sure don't write 'em like they used to.