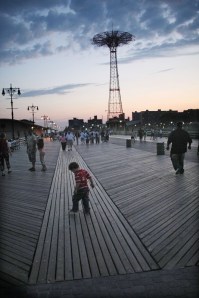 Coney Island's boardwalk was first built in 1923 as an effort to improve public access to what had largely been private beachfront property. The city laid down hundreds of thousands of wooden planks to create the Reigelman Boardwalk (named for the borough president at the time), and it has been one of the city's most popular attractions ever since.
Now, the Parks Department may pave over decades of history and tradition as it is strongly considering replacing the iconic wooden planks for the three-mile promenade with concrete.
At a community board meeting last night, locals expressed dismay over the decision. "This is an absolute disgrace. Having the boardwalk is a plus for this community–it's historic," Ruby Schultz
told The Brooklyn Paper. "And you're going to turn it into a sidewalk?"
The city is considering the move because it is cheaper, easier to maintain and repair (no more rot), and less slippery than a faux-wood alternative considered earlier this year. It will probably also be scalding to the touch, so keep those sandals on.
Still, locals insist the city's neglect of the boardwalk is the real problem, and not only the decades of deferred maintenance but also abuse by city workers.
"The trucks, the police, the heavy vans, they all cause damage" driving on the boardwalk, Bruni Figueroa said at last night's meeting. "And 95 percent of the time, they're just cruising looking at the girls, not even doing their jobs!"