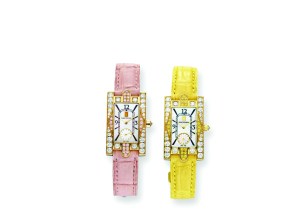 Mother-of-pearl is the iridescent interior of some oyster and mollusk shells. It's been used in decoration for centuries, particularly in China, where it was employed in furniture and boxes, and in Europe, where mother-of-pearl often topped pistols, fans, piano keys and other musical instruments. And, all over the world, it has long been used in the manufacture of jewelery.
But the import and export of mother-of-pearl items is actually restricted by many nations. Much as it is with tortoise-shell, ivory, some coral and animal skins, trade in it is governed by the International Convention of Trade in Endangered Species of Wild Flora and Fauna, an agreement signed by more than 170 countries. So products containing mother of pearl–like these brightly colored, bling-y watches on the block at Christie's Oct. 20–must be sold at auction with a mouthful of a warning.
Heather Luke, Christie's jewelry specialist, said the company informs clients that "several countries prohibit such materials, and other countries require a permit from the relevant regulatory agencies in the countries of exportation, as well as importation." The catalog for the sale also flags the matter with a "special notice."
Estimated to fetch between $5,000 and $7,000 each, the gold and rose-gold wristwatches have mother-of-pearl dials signed "Harry Winston"; the dials are encircled by white and pink diamonds and the bands are leather.
Realistically, of course, Customs agents are unlikely to scrutinize a traveler's arm at the border, but agents may be allowed to seize a mother-of-pearl item or impose a fine on a traveler attempting to bring it into a country, depending upon local laws.
In general, auctions of fine jewelry and watches in New York have been somewhat nicked by the recession: Sotheby's Sept. 28 jewelry sale raised $15.5 million, with 77 percent of the items sold, a respectable but far-from-blowout result.
What's striking is that the most expensive pieces performed better–i.e., selling for higher than the expected price–than the less expensive pieces.
The trend holds true at Harry Winston, also. The Toronto-based luxury jewelry retailer and diamond merchant reported in September that its retail sales were up 37 percent from the year-earlier quarter (boosted, in particular, by demand from Asian and European buyers), but mid-market jewelry retailer Zale Corporation reported, in September, a loss for its most recent quarter.
editorial@observer.com