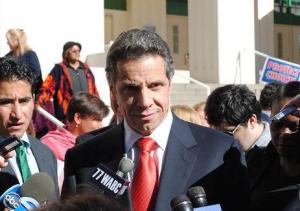 After a rally in Westchester this morning, Andrew Cuomo's brief media scrum included questions on infidelity, whether he watched Carl Paladino's "prowess" speech, and the degree to which candidates should be asked about their personal lives.
The only policy question was about New Jersey Governor Chris Christie's decision to withdraw from the ARC tunnel connecting North Bergen to Manhattan.
"I think it is a critical project. I think it's important to New York. I think it would be a mistake to stop the project," Cuomo said.
As he shook hands and posed for pictures, I asked Cuomo what he thought of the fair hike approved by the MTA yesterday.
"I think you need a total overhaul of the MTA," Cuomo said. "You have to revisit the payroll tax. We're going to have to figure out ways to make it more efficient and more economical, because we just can't afford this anymore."
I attempted to follow-up with a question about whether he would keep MTA Chairman Jay Walder–who his opponent, Carl Paladino, has said he would replace–but Cuomo was already back to shaking the last few hands, before he disappeared into the front seat of his black SUV.