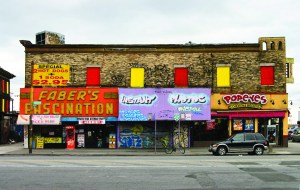 The long-murmured auguries of demolition on Surf Avenue had all but taken on the air of ritual, each new summer washing up like a predictable reprise–the last last annual send-off of Coney Island As We Knew It.
But the long, protracted standoff between developer Joe Sitt and city officials finally came to an end last year, and soon after, Mr. Sitt announced his intentions for the avenue: "By Memorial Day 2011, all of our parcels along Surf Avenue are scheduled to be activated with family-friendly games, food, shopping and other activities that visitors to, and residents of, Coney are clamoring for."
In the balance hang four buildings that have managed to survive the island's tumultuous last century, through its feverish bouts of boom and destruction, its apocalyptic fires and tyrannical development schemes. One of those four, the former Henderson's Music Hall, which hosted vaudeville acts like Sophie Tucker and Al Jolson and served as a launching pad for the careers of the Marx Brothers, appears slated to be demolished as early as this week.
The Municipal Arts Society, the New York Landmarks Conservancy and Brooklyn Borough President Marty Markowitz, among others, have rallied to save the Surf Avenue sites, so far to no avail.
"Certainly, a great deal of Coney Island's historic fabric has been lost over time," wrote the Municipal Arts Society in a letter to the city's Landmarks Preservation Commission. "[B]ut some historic buildings, rides, and other structures from Coney Island's heyday do remain. With so little left, the preservation of the existing historic resources becomes all the more important."
If words like "parcels" and "to be activated" didn't sufficiently delineate a worldview at odds with the preservationist spirit, however, Mr. Sitt went on to call the buildings standing in his way "decaying and outdated infrastructure." Attached came renderings of their proposed replacements: generic strip malls plastered with fast-food signs.
After his first music hall burned up in the Bowery fire of 1899, Fred Henderson enlisted the help of architect John McElfatrick, designer of Broadway theaters like Oscar Hammerstein's Olympia, a "multiple-theater complex so colossal as to be its own center of gravity." The resulting brick structure, with its corniced Italianate facade, managed to survive the island's next major fire, in 1903, relatively intact.
Henderson booked his acts through the national vaudeville chain Keith-Albee, though he went on to launch a vaudeville circuit of his own and later combined interests with Keith-Albee. The chain later became motion picture studio RKO.
By the 1920s, vaudeville had stopped filling balconies, Fred Henderson headed west, and in moved Lillie Santangelo's World in Wax Museum. The World in Wax specialized not in the simulacra of the famous or the sublime but in particularly gruesome murders–bathtub dismemberments, screwdriver killers, gagged nurses–and freakish births. Santangelo, who Coney Island Mayor Dick Zigun described as "Grandma Moses on LSD," ran the museum until 1984.
"Every one of these buildings is just horrible, rundown relics with nothing exciting about them," Joe Sitt told NY1 in May. "I hate to say it, but the great buildings of Coney Island disappeared 80 years ago."
It's true that the Henderson Building has seen better days. Work crews have pried out the window frames, dismembered its blinking Faber's Fascination sign (the last remaining example of the bare-bulb incandescence emblematic of Coney Island since the original Luna Park, according to historian Charles Denson). But really the demise of the Henderson Building goes back a ways before. The building's tenants–the Velocity Nightclub, for instance–were forced out when Mr. Sitt's Thor Equities bought the building.
It's an old story of slow-but-sure demolition: buy up, neglect, condemn.
The Henderson Building sits on a site recently rezoned by the city for high-rise development. In Mr. Sitt's original plans for the area, he conjured Vegas-glittery hotels, entertainment complexes and 40-story condos. The city's vision for Coney Island, meanwhile, is years away, and the role private development will play is still unknown.
Whatever happens, the days when Coney Island served as a kind of Petri dish for worlds of engineered entertainment are long gone, when swellingly confident schemers like Fred Henderson could superimpose any single fantasy across the shoreline.
The Coney Island we have instead is something different, something worked over by the incalculable exertions of time. It's a theme park with no theme–none, at least, that any two people could agree on.
Yet we still go there to experience something the city is otherwise slow to offer: that sense of jolting into other worlds. It's not the safe, cordoned-off past of a museum or a cobblestoned European city, but the curious disjuncture of inhabiting many times at once, and we never quite know, in all that, where and how our own time will become visible to us.