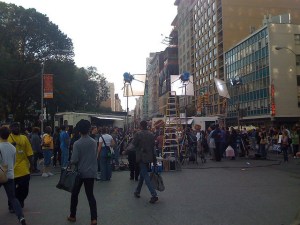 Finding on-street parking in the city is hard enough as it is, but when your block is turned into a backlot by one of the city's innumerable television, movie or commercial productions, finding a space becomes almost impossible. Add to that the scourge of every New York City motorist, alternate side parking, and you might as well drive your car into the East River and be done with it.
This may sound like a middling concern for a city in the grip of bedbugs, $104 Metrocards and yet another crisis on Wall Street, but for those New Yorkers living in popular shooting locales like Dumbo, Nolita, and Astoria, the constant frustration of finding a space is very real. Today, Councilman Steve Levin — who represents prime shooting spots from Greenpoint to Grand Army Plaza — is introducing legislation to lift alternate side parking regulations on any block adjacent to a film shoot.
"I have heard from residents all over the 33rd District from Brooklyn Heights to Greenpoint, Park Slope to Williamsburg, that film shoots have created difficulty to navigate parking schedules and regulations," Mr. Levin said through a spokeperson. "I want to emphasize that I truly appreciate the value of local filming and I have worked hard to make sure that this bill will not create an undue burden on production companies."
The new legislation will require very little of the $5 billion industry, as it will simply require productions to post additional signs on the affected blocks, not unlike the "No Parking" ones already employed to clear the way for their shoots. The bill also allows restrictions to be lifted for up to seven days. The idea is not entirely new, as the Mayor's Office of Film, Theater and Broadcasting has implemented alternate side parking moratoriums for certain shoots in the past. Instead, the legilsation will simply codify these regulations and ensure their employment on a regular basis.
For neighborhoods like Greenpoint, which see productions of everything from small indie films to major HBO productions like Boardwalk Empire and Bored to Death, this should be a welcome change. "It's a small step to making things a little easier for people who live in these neighborhoods and deal with it on a regular basis," the spokesperson said.