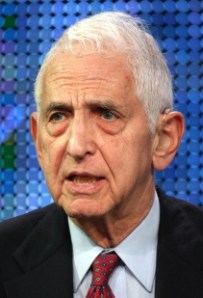 Daniel Ellsberg, the man at the center of the 1971 Pentagon Papers case, has just signed with Bloomsbury to write a memoir about his time developing nuclear strategy for the Defense Department.
Mr. Ellsberg has been popping up in the news recently as pundits have, right or wrong, compared the Pentagon Papers to the recent document dumps by the organization Wikileaks, which released tens of thousands of classified memos about the Afghan war in July. Wikileaks' founder Julian Assange has called Mr. Ellsberg a personal hero.
Tenatively titled The American Doomsday Machine, Mr. Ellsberg's latest book concerns "the approved US nuclear strategy calculated to kill 600,000,000 people," as Publisher's Marketplace put it.
"One of his first jobs [at the DoD] was studying command and control of nuclear weapons–in fact he drafted the operational plan for nuclear war in 1961," Bloomsbury Publisher and Editorial Director Peter Ginna told The Observer in an email. "As he said to me on the phone, when he saw Dr. Strangelove with a colleague, they agreed 'It's a documentary.'"
Sounds revelatory! With the recent high-profile steps that the Pentagon and the CIA have taken to keep state secrets under wraps, we asked Mr. Ginna if he was at all concerned about any blowback from the Defense Department.
"I think he can write an eye-opening book without falling afoul of secrecy laws," Mr. Ginna wrote. "I'd like to believe he's not going to jeopardize national security by talking about a 60-year old game plan for World War III."