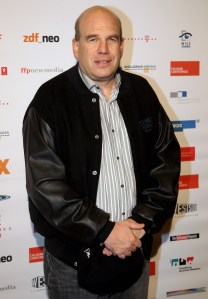 David Simon may be a MacArthur "Genius" Grant winner and a television deity for creating "The Wire," but he got his start on the crime beat at The Baltimore Sun, he explained in an interview today with The Wall Street Journal's Speakeasy blog. It was in that Charm City newsroom that Simon cut his teeth in the world of police squads and drug hits, eventually inspiring him to write the book Homicide: Life on the Streets. NBC turned the non-fiction work into a TV series, and Simon has stuck to the small screen ever since.
Speakeasy talked to Simon about the next season of his HBO series "Treme," which has already begun filming, and about the relationship between the development of a show and the process of focusing his reporter's eye for a story.
Now the institutional gravitas of these news organizations has leeched away. The Baltimore Sun used to have 500 reporters, morning and evening editions, and now they have 120. And the product reflects that, and these cuts were made before the Internet. They were made because some Wall Street analyst decided that you could make much more money putting out mediocre newspapers with less coverage and less reporters. And they were right in the short term. But in the long term, they were showing contempt for their readership and contempt for their own roles in society. Rather than papers of record, they became half-hearted attempts to provide a surface level of coverage.
Well, David Simon, your HBO contract for "Treme" only lasts through the second season. So if you get canceled due to middling reviews and and minimal audience, we're sure The Sun would love to have you back in the newsroom.