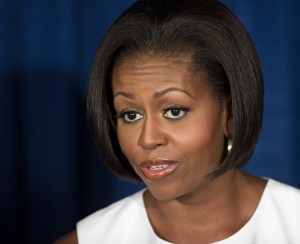 Michelle Obama will arrive in New York today for a private Democratic fund-raiser at the Upper West Side home of fashion designer Donna Karan and then head to Broadway's St. James Theater where actress Sarah Jessica Parker will serve as her host. It all sounds lovely. Ms. Obama will likely be in the same room with the many designers whose careers she helped propel such as Isabel Toledo, Thakoon Panichgul, Naeem Khan, Michael Kors and Narciso Rodriguez.
But you know who's incredibly upset about Ms. Obama's relationship with the New York fashion world? D.C. Socialites!
According to Women's Wear Daily, they feel snubbed. Apparently the whole issue is about the institution of a "velvet rope" policy at the White House.
Instead of welcoming guests in a formal receiving line with a White House photographer on hand to help visitors capture their historic moment, or simply strolling through the Red, Blue and Green rooms chatting informally with invitees, the Obamas prefer to stand in a designated spot, such as one end of the East Room or in the Grand Foyer, safely positioned behind a red velvet rope. The kind of red velvet rope clubs use to keep out the riffraff. From there, the presidential couple smiles, chats, makes eye contact and waves as their guests jockey for position to touch their hands. No mingling.
"For a campaign rally, sure, that's fine. But not for the White House," complained a museum board member. "Every president–Bill Clinton, both Bushes, the Reagans–they would always have a quick receiving line. Each couple would be formally announced. A few words would be exchanged. But this President thinks he is such a rock star. It's like he's inviting guests to the White House just to snub them."
And so the Obamas eagerness to rub elbows with New York media and fashion flock is interpreted as a diss. (In August, the president attended a fund-raiser at Anna Wintour's West Village townhouse with guests that included Ms. Karan, Calvin Klein, and Tory Burch.)
"It just doesn't seem very hospitable to me," Ford's Theatre board member Maureen Malek told WWD. "It's their way, and each president has his own way of greeting people. For some people, it doesn't matter. They just love being in the White House. I like it the other way."
If we've learned anything from The Real Housewives of D.C., this is not a group of people we would want mad at us.