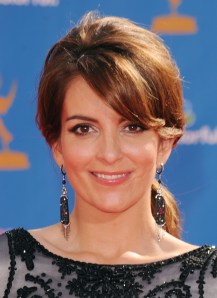 The Awl has snagged an exclusive photo of a poster promoting Tina Fey's book, apparently titled Bossypants, at the Frankfurt Book Fair.
The Observer reported two years ago that Ms. Fey's offer may have been as high as $6 million, and included a gift to be made to the Books For Kids foundation.
The book is a collection of Nora Ephron-style humor essays and the poster, which looks a lot like a cover, features Ms. Fey in a shirt and tie, with meaty managerial arms framing her normal Tina Fey face.
Earlier: Comedy Central Laughs for Charity