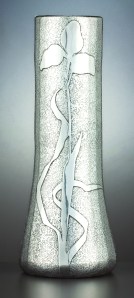 Forty years, and four decades of changes in design and American taste, separate these two sterling-silver Tiffany vases. Both are being sold by Heritage Auction Galleries on Nov. 8, but their stories, and their prices, differ.
The older vase, a large and elaborate one, dates back to 1879. It was crafted at a time when Tiffany was winning gold medals at international exhibitions, chiefly for the Japanese-influenced designs of Edward C. Moore. (The vase's registration number traces it back to a design by Moore, whose personal collection of Japanese works of art is in the collection of the Metropolitan Museum of Art.)
Japan was largely closed to the West at the time, so this particular design was unusual, as was the method for achieving it, a process called acid-etching. In it, a design is marked off, then the whole piece is immersed in an acid bath that crackles any part of the surface that is unprotected. It's labor-intensive and prone to error, said Tim Rigdon, Heritage's head of silver and objects of vertu, so pieces are rare. The presale estimate is $12,000 to $18,000.
By 40 years later, Tiffany was, if anything, more successful, bigger and better known, but was doing more mainstream pieces in that period. The second vase, dating from 1909, is smaller and less expensive. "It's a beautiful piece and very well made," he said, and the Edwardian pattern used is a popular pattern of the period–but nothing revolutionary. "This is a little safer," said Mr. Rigdon. It's estimated at $1,000 to $2,000.
In part, this information is known because Tiffany & Co. has something few companies have: a 170-year-old archive. Based in Parsippany, N.J., the retailer's extensive library has records of designs and orders dating back almost to its beginnings, on 259 Broadway in 1837. (Tiffany charges antiques dealers and the general public approximately a $500 research fee to investigate objects in its archives, but students have free access.)
The vases will sell at the Dallas showroom of Heritage, but bidding has already started online. The 1879 vase in particular, is in demand due to its rarity, said Mr. Rigdon.
apeers@observer.com