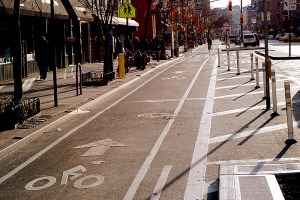 Maybe this has something to do with why the old folks on Prospect Park West want their bicycle lane erased.
According to a lawsuit covered by The Times, a Manhattan senior was mowed down by two biking tots on 52nd Street in 2009, causing severe injuries that the suit suggests led to the 87-year-old woman's death.
Her family is suing the children as well as their parents for negligence. Yesterday, a Manhattan judge allowed the suit against one of the children–who actually hit the elderly woman–to proceed. In one of those macabre twists only to be found in a courtroom, the judge's decision hinged primarily on the girl's age.
While the judge agreed that a 4-year-old could not be held liable for negligence, because the girl, Juliet Breitman, was three months away from her fifth birthday, the case could in fact go forward. "Juliet Breitman, however, was over the age of 4 at the time of the subject incident. For infants above the age of 4, there is no bright-line rule," Justice Paul Wooten wrote in his decision.
It remains to be seen whether the girl will actually be convicted of the negligence charges, as this case focused solely on whether the suit against the girl could proceed. The parents have not challenged the lawfulness of the charges against them.
The Observer has already documented the deadly threat bikes pose to New Yorkers. Yet tragic as these events are, it seems like only another victory for attorneys, not pedestrians and pedalers.