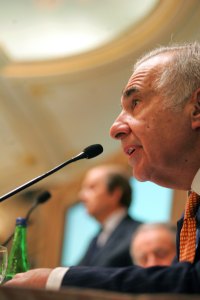 Billionaire Far Rockaway native and CapsLock enthusiast Carl Icahn is now facing a lawsuit from indy studio Lions Gate Entertainment. Lions Gate says Icahn denounced a merger between Lions Gate and fellow studio Metro Goldwyn Mayer so that he could make a bigger profit on an eventual deal.
Dow Jones Newswires reports on the suit, which was filed yesterday:
[Lions Gate], which produces the hit television series "Mad Men," claims Mr. Icahn was playing a "double game"–publicly saying he would oppose the merger, while secretly amassing a large stake in MGM's debt.
"Icahn opposed a merger with MGM not because it was bad for Lions Gate shareholders, but because it was good–so good, in fact, that he wanted to postpone it until he could buy as much of both companies as he could and thus extract for himself as much of the value stemming from the merger as possible."
The new lawsuit was filed just a day ahead of a vote by MGM creditors on whether to partner with another stuido, Spyglass, in a preordained bankruptcy. (Icahn VEHEMENTLY OPPOSES that deal.) Icahn is trying to take over Lions Gate and has been amassing MGM debt, of which he already owns some $480 million.
Meanwhile, the New York Post reports that Lions Gate is still looking to go ahead with the MGM merger, while debt holders in MGM are looking to do the Spyglass because in one sources appraisal, Carl is simply trying to steal this company." Looks like Icahn's rollercoaster ride in the entertainment business is far from over.
mtaylor [at] observer.com | @mbrookstaylor