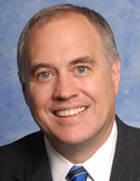 Tom DiNapoli announced this afternoon that his campaign just received the backing of Empire State Pride Agenda.
The announcement should not come as too much of a surprise, since ESPA often backs Democrats and DiNapoli's opponent in the comptroller's race, Harry Wilson, is against same sex marriage. (Wilson does back civil unions.)
"I have committed myself to ensuring that for as long as I am in public service, I will stand for equal rights," DiNapoli writes. "My opponent and his Republican running mates don't even believe in marriage equality and they WILL turn the clock back on LGBT rights if they are elected. We've come too far to take that step backward."
The release notes that DiNapoli directed the New York State and Local Retirement System to recognize same-sex marriages performed in jurisdictions in which they are legal, which guaranteed that all surviving spouses have access to retirement benefits.
Added DiNapoli: "I am fully committed to achieving marriage equality in New York State. My opponent, shamefully, does not believe in equal rights for all New Yorkers. It is unacceptable that in 2010, any candidate for statewide office supports a system of legalized discrimination."
DiNapoli didn't make it to the group's gala last week, but Governor David Paterson gave him kudos for his anti-discrimination efforts, which drew applause from the crowd.
DiNapoli also attended a big rally for state Democrats at Stonewall Democratic Club last night. Interestingly, he was joined there by Robert Duffy, Andrew Cuomo's running mate. Cuomo himself meanwhile has steadfastly avoided campaigning with DiNapoli.
dfreedlander@observer.com