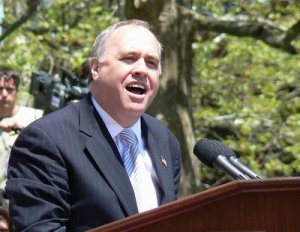 On the heels of Harry Wilson's statement after the Hevesi plea, comptroller Tom DiNapoli is out with a statement that seeks to make clear that Tom DiNapoli is no Alan Hevesi and talks about how he has reformed the office in the wake of the Hevesi scandal.
"Over the past three years, we've made huge strides to restore that public trust in the management of the pension fund," DiNapoli says. "I've banned the involvement of placement agents and lobbyists in pension fund investments. I've prohibited pay-to-play campaign contributions. I've put in place a long series of reforms to increase transparency and oversight."
DiNapoli gets a few knocks in on Hevesi as well, calling him "the latest in a line of corruption that just keeps getting longer," and goes on to thank, in a way, Attorney General Andrew Cuomo.
"Attorney General Cuomo's diligent investigation has brought to public view the crime of the Hevesi administration. The steps I've taken implement reforms to protect the fund from abuse. But Alan Hevesi's guilty plea as a result of the Attorney General's investigation is a stark reminder of the need for constant vigilance," he says.
Cuomo and DiNapoli have had a notably testy relationship, with Cuomo refusing to endorse DiNapoli and at one point seeming to be casting about looking for someone to run against him.
An interesting side-note of this release is that it comes from DiNapoli's comptroller office, not from his campaign office, proof that DiNapoli is not going to go head-to-head with Wilson on the details of the Hevesi affair.
.