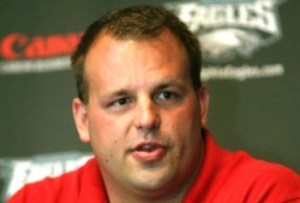 For the last six months, the lives of voters in District 3 – from the Delaware River to the Atlantic Ocean – have been beset with the heavyweight battle of Harvard alum and U.S. Rep. John Adler, who rode Pres. Barack Obama's popularity to victory two years ago, and former N.F.L. right tackle and GOP tenderfoot Jon Runyan, who's riding Gov. Chris Christie's popularity this year.
In 2008, Obama carried the district by 5 points (52-47), but last year Christie dominated the ballot boxes in District 3 by a 17 point margin (56-39).
Christie, now oozing popularity, took 45 of the 52 towns in Adler's district last year, defeating Jon Corzine by 35,000 votes.
District 3 includes Cinnaminson, Delran, Evesham, Moorestown, Mount Holly, Mount Laurel, Pemberton, and Westampton in Burlington County; Cherry Hill in Camden County; and Barnegat, Beach Haven, Lacey Township, Long Beach, Ocean Township, Seaside Heights, and Toms River in Ocean County.
Primed for a run at Adler, state Sen. Diane Allen (R-Edgewater Park) announced she had cancer last year, which prompted the South Jersey Republicans to look down their bench.
They couldn't look past Runyan, a former Pro Bowl football player brought to the political arena by Assemblywoman Dawn Addiego (R-Evesham). Their children attend school together.
At the behest of party leaders like Ocean County's George Gilmore, the GOP avoided the nasty primary battle that hamstrung them two years prior, and Runyan emerged as the tallest candidate for office in New Jersey.
One contender who disappeared, Maurice "Mo" Hill, a retired U.S. Navy Rear Admiral from Toms River, was recently appointed to the South Jersey Transportation Authority by Christie.
Born in working class Flint, MI, Runyan had no prior experience in government, which he holds as one of his ideals running against what he has throughout the race called a "career politician" like Adler, who rose from a single-parent household to put himself through Harvard twice.
Adler spent 17 years in the New Jersey Senate before succeeding 24-year Republican Congressman Jim Saxton in 2008. Saxton retired and Adler defeated Medford Mayor Christopher Myers by a 52-48 margin.
For months, the mailboxes, televisions, radios, newspapers, and water coolers in District 3 have been monopolized by the only dead heat of New Jersey's congressional races.
Voters have also been bombarded with non-issue issues – like Team Runyan's donkey farm, which addresses tax loopholes, and Team Adler's third-party plant, which addresses election integrity.
As far as the candidacy of third party interloper Peter DeStefano, whom the Tea Party threw overboard, he could potentially influence voters to vote either way.
Runyan was leading Adler, 37-40, within the margin of error in a Richard Stockton College/Zogby poll this month of likely voters in the district.
The poll showed DeStefano receiving 4.9 percent of the vote and called the race "too close to call."
A September poll showed Adler leading Runyan, 38-30, with DeStefano taking in 7.6 percent.
"Although Tea Party-candidate DeStefano support is dropping, nearly 5 percent in a close race could be important to the outcome of this close election," according to Sharon Schulman, executive director of the Hughes Center for Public Policy at Stockton College.
One segment of voters may have been turned off by the backroom dealing that put DeStefano in the race, taking votes out of Adler's column by either staying home or, worse yet, pulling Runyan's lever.
Another faction of voters who don't know DeStefano isn't Tea Party-approved may check his box unwittingly, drawing votes away from Runyan – the intended consequence of Adler's advisors and staffers who reportedly put DeStefano in the race.
Even with widespread reports of the Democratic plant, Runyan said recently his campaign is still concerned about vote siphoning from the faux-conservative.
In the fundraising department, Adler amassed a 4-1 advantage over Runyan in cash-on-hand, raising over $3 million and holding more than $1.6 million cash-on-hand, according to reports earlier this month. Runyan held over $400,000.
This year Adler broke rank with the Democrats in the House over several key issues, like the health care reform bill, that pundits said moved him into a more moderate position that would help him in the election.
But still he accumulated a 90 percent vote count with his party, leading Runyan to use the GOP's national mantra of attacking Speaker of the House Nancy Pelosi to drag Adler down.
"He voted with Nancy Pelosi 90 percent of the time," Runyan said at a debate, "and yet he calls himself an independent centrist. We have to change this and put citizen legislators back in office. The people with all the experience got us where we're at, and I don't think we're doing very well."
In response, Adler brought up the farmland tax break that Runyan banked. "The truth is Jon Runyan placed four donkeys on his massive property to save $20,000 a year in taxes and then missed paying his taxes 33 times," the Adler campaign told PolitickerNJ.
Their campaign battles included offshore drilling (Runyan for, Adler against), eliminating the Bush tax cuts (Adler for, Runyan against), and the healthcare bill (Adler against, Runyan against), more for the fact that Runyan said he hadn't read it.
Hissed by the crowd, Adler almost completely dodged DeStefano plant questions at one debate, and then elicited a telling answer at another when he asked Runyan which Supreme Court decision in the last 15 years he disagreed with.
"Dred Scott," Runyan replied, referring to the pre-Civil War slavery case.
Adler enjoyed support from the New Jersey State PBA and bankroll from the National Association of Realtors, while Runyan got endorsements from Christie and the Courier-Post, and contributions from the National Republican Congressional Committee.