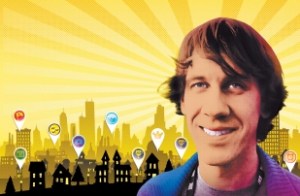 Erik Sherman at BNET spotted a new, extremely broad patent by Facebook that could threaten location-based services like Foursquare.
A method of sharing locations of users participating in a social networking service at a geographic location, the method executed by a computer system and comprising: receiving location information and status information from a mobile device of a first user of the social networking service, the location information representing a geographic location of the first user, the status information manually provided by the first user on an input module of the mobile device; associating the location information with the status information of the first user in a database; and sending the status information and the location information of the first user to a second user for display.
That covers a ton of Foursquare's current functionality. The question now is whether this patent is a hedge for the future, or a cudgel Facebook plans to wield against smaller rivals like Foursquare.
When Facebook unveiled its Places feature back in August, founder Mark Zuckerberg made it clear they were borrowing from services like Foursquare and Gowalla, and that he hoped Facebook would help these sites grow, not cannibalize their users.
Foursquare's growth has indeed continued to accelerate, to the point where their site has been breaking down. It took the site 16 months to get to 100 million check-ins. In the last two month they have doubled that number to more than 200 million.
That kind of growth would explain why Facebook is giving itself the option to take legal action, which with it's considerable resouces, could be a real problem for Foursquare. They clearly have prior art here, but even with that, legal costs could hamper the young startup.