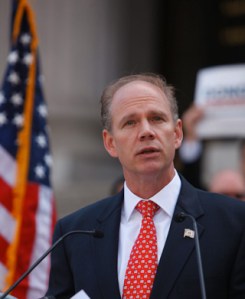 Dan Donovan lit into Eric Schneiderman today over yesterday's scathing Inspector General report on the AEG-Aqueduct deal.
Though Schneiderman's name does not appear in the report, Donovan said the state senator is "compromised" by his ties to the Senate leadership.
"He is a self-proclaimed reformist, but all these things have happened in the twelve years he's been sitting alongside these individuals," Donovan said this morning on his weekly conference call with reporters. "I don't see how he can say he's been an independent, when he's taken money, he's voted for people like Malcolm Smith into the hierarchy of the Senate Democratic caucus. And all of these things, for being a self-reformer, have happened under his nose."
Schneiderman said yesterday he would return the $76,000 in campaign contributions from fellow senators John Sampson, Eric Adams, and Smith.
As The Times noted this morning, Democrats will have to reckon with the report in the last 11 days of the campaign–and perhaps none more than Schneiderman, as Donovan tries to close a seven-point gap in the polls.
"The pollsters are telling us how intense our voters are and how unenthusiastic our opponent's voters are," said Donovan, who said he's calling the final days of the campaign "wake-ups."
"We've got 11 wake-ups left and we're going to work real hard in those 11 days," he said.