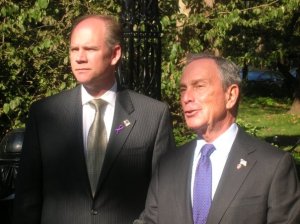 On his weekly conference call this morning, Dan Donovan was asked how much his campaign collected at that big ticket fundraiser held in his honor last week.
"The campaign's told me we exceeded our goal," Donovan said. "I don't know the exact dollar amount, but we exceeded our goal. And we have enough money not only to be competitive, but to win this thing."
As The Politicker noted yesterday, the Donovan campaign had collected only about a quarter million dollars since the event, although new donations keep going up on the Board of Elections website.
Today's 24-hour notices show another $25,000 contribution from yet another Bloomberg L.P. co-founder, Duncan MacMillan. MacMillan worked with Mayor Bloomberg–one of Donovan's biggest backers–at Salomon Brothers before they launched the new company.
Donovan still trails well behind his opponent, Eric Schneiderman, in fundraising, but after a dark week, Donovan is back up on the air for the stretch run.