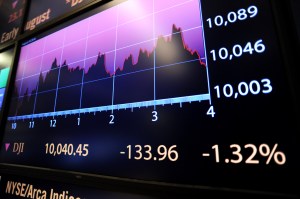 Dear Diary,
If coffee's for closers, then pour me a Venti, because I brought the week home with a brass-ball finish. Today's 58-point rally leaves me ending the week at 11,006, my highest level since May of this year. I'm up 1.6 percent for the week and 5.6 percent so far this year. How you like me now, investors?
Today shouldn't have been a cakewalk. The September employment report this morning showed the economy losing 95,000 jobs on the month, and the unemployment rate stuck at a frankly unflattering 9.6 percent. Fortunately, I'm able to look on the bright side, and expect the Federal Reserve to come to the rescue with some interest-rate lowering quantitative easing to juice this economy.
My man Bill Gross from PIMCO (the authority on bonds, by the way) agrees with me, saying that those lackluster jobs numbers are just the excuse Bernanke needs to pour more money into the system. Even if St. Louis Fed president James Bullard is wishy-washy on additional intervention, I'm pretty sure the central bank will come around.
Either way, I feel the need to give a special shout-out to my favorite stock Alcoa, without which I wouldn't have been able to rack up today's gains. That scrappy aluminum producer reported earnings and said that demand is growing worldwide, powering its stock 5.7 percent higher today. Go get 'em, Al!
Alright, it's a beautiful evening, and I don't want to jinx a good thing with too much boasting. But man, am I rocking right now.
Have a good weekend,
The Dow Jones Industrial Average