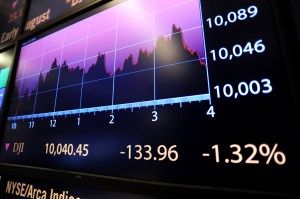 Dear Diary,
What a slumptastic day. Seventy-four points down the drain. Only five of my stocks went up today, and American Express got taken out to the woodshed! Down 6.5 percent, all because of some stupid antitrust lawsuit. You know what's anticompetitive about AmEx? The fact that it's awesome. The Department of Justice needs to get a life.
And then there's Microsoft, down 1.9 percent on a downgrade from Goldman Sachs. C'mon Microsoft! Don't let those Goldman guys push you around. You're better than that.
Maybe my other 29 stocks could've compensated for Microsoft and AmEx's seriously lackluster performance, but there wasn't much in the way of positive news to send them off to the races. Factory orders fell half a percentage point in August. That reading was pretty much expected, but I still don't like to see economic activity decline.
There was one bright spot, but even that carries a caveat. The National Association of Realtors' reading on pending-home sales climbed in August. Even though that improvement is welcome news, I'm still really worried about potential legal trouble stirring up because some banks forgot to cross a few T's and dot a few I's when filing foreclosure paperwork.
As if that weren't bad enough, things are still looking super rough over in The Old Country. Ireland is looking the worse for wear, and Greece is still a basket case.
Basically what I'm going to do now is eat some leftover pizza and think back to the heady days of September, where "up and to the right" were the only words that could describe my chart.
See you tomorrow if I can even get out of bed,
The Dow Jones Industrial Average