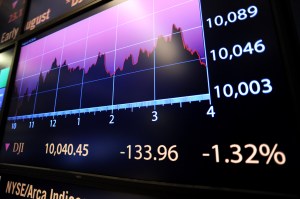 Dear Diary,
Just as I predicted, a down day! And guess which of my stocks had a big hand in dragging me down? That's right. Bank of America and JPMorgan Chase, all thanks to this silly problem of improperly filed foreclosure paperwork. Shares of BofA took a 5.2 percent tumble as an analyst at Standard & Poor's downgraded the stock to hold from strong buy. JPMorgan was hardly any better, giving up 4.2 percent. Honestly, these banks are turning into a real drag.
Plus, I didn't get an all-out promise from Federal Reserve Chairman Ben Bernanke that he would do more to lower long-term interest rates and reinflate our droopy economy. Dude, if you're worried that inflation is low, do something about it! Don't just jibber-jabber! Yeesh.
General Electric, normally a company I can trust to deliver solid earnings year in and year out, dropped after reporting third-quarter earnings this morning. They beat bottom-line expectations, but some onlookers were still calling the results a disappointment. Once the gloom starts to accumulate, it's hard to shake off.
Anyhow, I finished with a lousy 55-point loss. Counting today, I'm on a two-day streak of narrow losses. That's not horrible, but I expect things to keep getting worse.
The Dow Jones Industrial Average