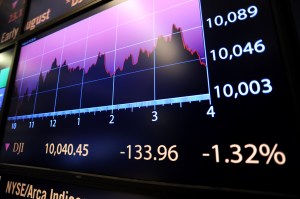 Dear Diary,
Today was kind of dull, to be honest. I added a few points and stayed above the 11,000 mark, but this was hardly a rock and roll performance. Partly, there wasn't a lot of new information to digest. What I'm really interested in happens later in the week. Two of my stocks — Intel and JPMorgan Chase — report earnings. Intel's up to bat tomorrow and JPMorgan delivers results on Wednesday. Hey, I just thought of something. If it were baseball, Intel would be "on deck" and JPMorgan would be "in the hole."
Anyway…
This "robo-signer" scandal has gotten bigger this week, and I'm a little concerned that stalled foreclosures stemming from legal entanglements could hurt my boys at the big banks (in addition to JPMorgan, Bank of America is one of my stocks). At least the Obama administration seems to be in their corner!
Other than that, I'm still holding out hope for some quantitative easing by the Federal Reserve after the elections. Speaking of elections, it'd be great if Republicans took over and kept the Bush tax cuts in place. Gotta free up some capital and get the profit engine running, you know?
One last thing: Big shoutout to Gymboree, which just got bought out by Bain Capital at a 24% premium over Friday's close. They have the cutest little baby clothes! Love it.
Looking forward to more action tomorrow.
Take care,
The Dow Jones Industrial Average