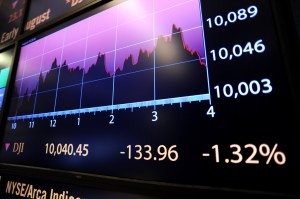 Dear Diary,
So maybe yesterday's 150-plus point drop was a little excessive. I almost recovered all those losses today, with a one-day gain of 129 points.
To be honest, I was really spooked yesterday that Bank of America and others faced major losses resulting from putbacks of faulty mortgage bonds. John Carney's sources are telling him that yesterday's letter from lawyers for bond powerhouses BlackRock, PIMCO and others has the banks in jitters. And if they're scared, I feel like I should be scared, too.
But let's not dwell on that. Yves Smith over at Naked Capitalism has outlined a compelling case for why mortgage-putback worries may be a little overblown. Plus, Larry Fink of Blackrock — whose firm wrote that nasty letter to BofA — says investors shouldn't be so fearful about BofA's legal overhang.
That's not all. Wells Fargo is saying that its foreclosures were carefully executed and it's not worried about legal repercussions. BlackRock's third-quarter earnings beat expectations, and even though Morgan Stanley missed, that's alright. Plus, solid performance by Intel and Boeing helped me along.
I'm not saying my concerns have been totally erased, but I do feel a little sheepish about yesterday's huge meltdown.
Oh well. Live and learn,
The Dow Jones Industrial Average