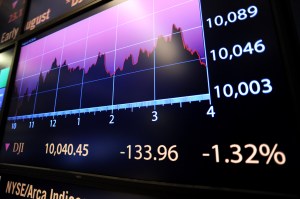 Dear Diary,
I took a little bit of a hit today, finishing down 17 points. One of my main troubles, as usual, is the idea that the Federal Reserve isn't going to be printing lots of money to lower long-term interest rates and stimulate the economy. Or at least, it's looking like the central bank won't be printing as much as we previously expected. At the very least, officials are divided over what to do next. And if the people that make the rules don't know what to do, I get really confused. And when I'm confused, it's hard to pick a direction.
It's not every day that 3M, a Minnesota-based company that makes Thinsulate and Post-It Notes takes a major dive. 3M is one of my most reliable stocks — but not today. It dropped an amazing 6.4 percent today, by far my worst performer. But that's what happens when you lower your full-year profit forecasts. So that was a bummer.
On the plus side, weekly jobless claims fell, which is a good sign, even though the Department of Labor's weekly read on unemployment tends to be volatile and subject to frequent revision. Plus, Exxon, one of my stocks, beat Wall Street estimates today. Gotta love Exxon. It's always making so much money! What a company.
Alright, see you tomorrow.
The Dow Jones Industrial Average