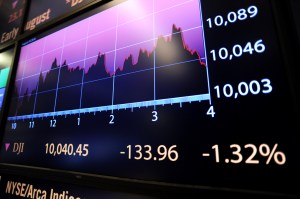 Dear Diary,
So I'm a little antsy about tomorrow's big September jobs report from the Department of Labor. I think that's really the best explanation for my inability to pull my head out of my rear. I stayed negative pretty much all day and closed down 19 points. Not too terrible, but definitely not a win either.
Still, there are a few small bright spots. Weekly jobless claims fell by 11,000 to 445,000, a better reading than the Street had been looking for. Same-store retail sales from companies like Abercrombie & Fitch and American Eagle were better than expected.
With earnings season ramping up, life is about to get a lot more hectic. After the close today, Alcoa, one of my stocks, reported that earnings were down for the third quarter, but the company beat Wall Street expectations on both the top and bottom lines. Hopefully that'll give me a boost tomorrow morning.
As usual, I'm in a weird spot when it comes to each new piece of economic information. If it's good, then I will probably take that as a sign that the recovery is strengthening. If it's bad, I'll expect the Federal Reserve to come to the economy's rescue, and that the recovery will strengthen. It's a weird way to operate, but it beats being a Debbie Downer all the time.
Hoping not to be freaked out by tomorrow's jobs report,
The Dow Jones Industrial Average