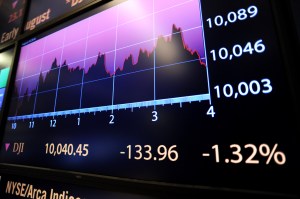 Dear Diary,
I broke a perfectly good winning streak — a four-session-long, 266-point gain — all because some underqualified clerks have been throwing away, improperly signing and generally making a mess of foreclosure documents for the banks.
The close losses always hurt the most, and it's hard to imagine a closer call than today's finish. In the final minutes I couldn't muster up that last push and wound up closing the session with a 1.5-point loss. One and a half points! That's one one-hundredth of one percent. Ugh. It makes me sick just thinking about it.
Of course, my bank stocks lent me no support. Bank of America dropped 5.2 percent and JPMorgan Chase lost 2.8 percent. American Express had an okay day, but you know what? They don't do mortgages! And now the housing market has a whole other pile of legal sludge to wade through. Consider this news stuck — in my craw.
The other stuff hardly seems to matter. Weekly initial jobless claims showed 462,000 people filed for unemployment benefits — more than expected. The Producer Price Index rose, indicating inflation. That's kind of a scary thought, given that the Federal Reserve seems to think we need more inflation and by many accounts is preparing to pump more money into the system with another round of quantitative easing. I'm just glad I don't have to make the decisions the Fed governors have to make. The economy is in what the layman might call an "awkward spot."
Gold made another upward run and set a new record high. I don't have to tell you, Diary, that gold is a hedge against inflation — but also just a general safe haven against market disruptions.
You know how when you're watching your team play a game, and the game is close, but you can see in your players' eyes during the postgame interview that now they're scared and the wheels are coming off? Yeah, I feel kind of like that. Like we can kiss the post-season goodbye.
Super frustrated — even a little ticked off,
The Dow Jones Industrial Average