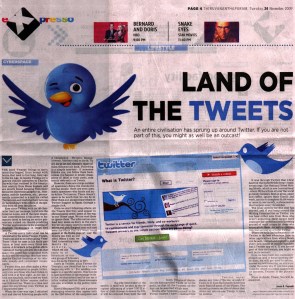 The New York Times is absolutely dominating all other newspapers when it comes to Twitter followers.
Right now the Grey Lady has 2,668,948 followers, more than four times its closest competitor, The Wall Street Journal, which has 464,591.
USA Today, which has nearly twice the print circulation of the NYT, has just 72,929 followers.
Some of this success can no doubt be attributed to the NYT's Twitter savvy staff. Tech writer Jenna Wortham has 356,427 followers. Goofy gadget columnist David Pogue has 1,325,109.
Twitter can drive a ton of traffic and engagement, so the NYT must be pleased with these numbers. At the same time, neither The Times nor Twitter seems to have figured out how to turn these enormous followings into actual profits.
bpopper [at] observer.com