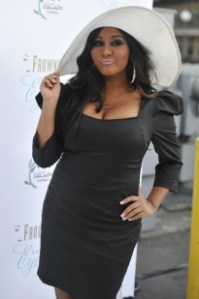 Last July, when The New York Times published Cathy Horyn's profile of Nicole "Snooki" Polizzi — star of MTV's "Jersey Shore" — the piece's unsympathetic depiction of her blunt joie de vivre and perceived lack of classic book smarts launched a firestorm of criticism and uproar. Apparently, the innocent Snooki had been wronged.
Hortense Smith at Jezebel called it "the cruelest profile I've ever seen in the Style section," deeming Horyn's takedown "condescending" toward one of this new century's most visible Garden State icons. In her take on the piece at Salon, Mary Elizabeth Williams called Horyn "that bitch from the paper of record" and went on to brutally attack the piece.
Horyn's [piece] neatly encapsulates everything most despicable about the Times and its cultural coverage — its snotty, keep 'em at arm's length, can you believe these people? attitude, the way you can practically feel the reporter holding her nose while she writes.
Now, in today's Daily Beast profile of Horyn, the fashion beat writer goes on the record about the vicious response to the article, which has racked up 800,000 page views. Naturally — given her history of fielding affronts from the notoriously whiny fashion industry she often tears apart in her writing — she defends everything the article said.
"I wanted to say to people 'read the article,'" Horyn says. "I described her as a silhouette and an icon by virtue of her pouf and her body shape. I've acknowledged her and her impact. But am I going to be tough with her? Yeah. I don't think people understood it, honestly, and I don't know what they expected to read."
The story does not, however, reveal Horyn's thoughts on Snooki's recent book deal. Perhaps she wasn't surprised, having predicted it in the Times story, complete with a acidic diss: "Snooki is trying to spin her image into Snooki-theme products and maybe a book, which undoubtedly she will never read," Horyn wrote.
nfreeman@observer.com