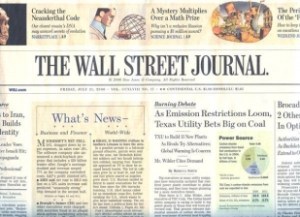 Of the 24 biggest daily newspapers in America, only two saw an increase in circulation in the six-month period ending Sept. 30, Jeff Bercovici reports from an Audit Bureau of Circulation study. One of those two happens to also be The Wall Street Journal — the newspaper with the highest print circulation in the country. In this most recent cycle, its weekday circulation edged up 1.8 percent.
The New York Times — the "paper of record" that The Wall Street Journal has been poaching readers from — saw its numbers drop 5.5 percent, while the circulations at the Los Angeles Times and The Washington Post dropped 8.7 percent and 6.4 percent, respectively.
The only other newspaper in the top 24 to experience an upswing in print circulation was the Dallas Morning News, but its 0.25 percent increase barely makes a dent.
Newsday's foray into selling access to its online paywall alongside print subscriptions failed to boost sales: circulation dropped 11.8 percent in the sixth months.
nfreeman [at] observer.com | @nfreeman1234
UPDATE: NYT spokesperson Bob Christie sent over the following statement.
The New York Times continues to focus on highly profitable circulation while reducing high churn circulation and increasing revenue through circulation price increases. The Times's has more than 820,000 subscribers that have been with the paper for more than two years, which means effectively we have them for life.