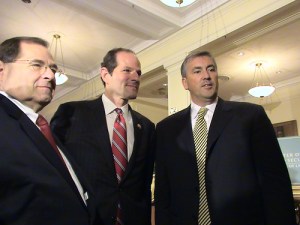 Michael Balboni, a former Republican state Senator and homeland security czar, has sent out a fundraising letter to Eric Schneiderman's email list, urging his supporters to donate to the Democrat's attorney general campaign in the waning days of the race.
Balboni, an Eliot Spitzer appointee who was kept on by Governor David Paterson, endorsed his former Senate colleague last month, and has been referenced by Schneiderman often in order to trumpet his bi-partisan bonafides. According to the most recent campaign finance reports, Schneiderman has more than twice the amount of money as his opponent, Staten Island District Attorney Dan Donovan.
The email includes an invitation to attend a Victory Cocktail Reception tonight. According to the campaign, the reception is at a private home, and will be attended by Comptroller John Liu, Manhattan Borough President Scott Stringer, and Public Advocate Bill deBlasio.
Email below: