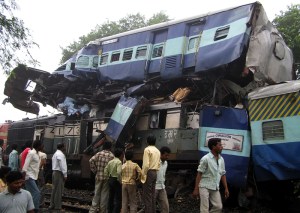 It has been a terrible week for mass transit, and somehow that just doesn't feel right. The Real Estate Desk thought this was supposed to be some golden age of shared streets and enlightened public officials. Apparently not.
The most obvious example is the new $104 MetroCards. But in case you missed it, part of the reason for such a fair hike is that the state has raided dedicated MTA funds yet again, grabbing $16 million on top of the $113 million it took last year. This is at the same time that drivers may not have to pony up as much, if anything, to help the MTA with its sinking budget.
In an even greater sign of continuing car-centrism, New Jersey Governor Chris Christie has made good on rumors that he would cancel the ARC (Access to the Region's Core) Tunnel, which would have vastly improved train service into Manhattan for our friends across the Hudson. The $2.7 billion will instead be spent on roadwork throughout the state.
This of course overlooks the fact that Jersey has now sacrificed $3 billion dollars in federal funding for an $8.7 billion project that was to be the most expensive transportation job undertaken in our nation's history. Not to mention this would have taken far more drivers off the road than will be served by bigger highways. Maybe the solution to the MTA's woes really is raising bridge and tunnel tolls…
But the problems are much deeper and more fundamental than continued transit ambivalence — though that also remains a problem with the political overclass. "I think there's a lot of windshield perspective at play," Paul Steely White, executive director of Transportation Alternatives, told The Observer. "And by that I mean a lot of politicians and decisionmakers are drivers — or are driven — and don't have a real prospective on what the average New Yorker faces every day."
The bigger issue is putting transit first — or last, depending on your perspective — when it comes to budget cuts. Christie touched on this, along with his car-first mentality, when he told the press that he would sooner cut the project than cut into education or public safety funding. It's a fair point, but one not everyone, and certainly not transit advocates, agrees with.
But this is nothing new, as Gene Russianoff, attorney for the Straphangers Campaign and dean of the region's riders, has been watching transit get the axe for decades. "It's been the reality as long as I can remember," Mr. Russianoff said. "The desperate situation we're in just makes the bad choices starker." He points to the triple whammy of not only rising prices but falling service and greater need borne out by the recession.
White finds the actions of politicians reprehensible and ignorant. "Look at what happened to the city in the '70s," he said. "Everyone forgets the economic and social impacts of mass transit because they tend not to be felt until later on. It's too easy, and we have to hold them accountable." He urges people to visit his group's Rider Rebellion Web site if they want to start doing so.
But maybe there's nothing we can do about it. The Times' Economix blog had a post that caught the Desk's eye yesterday about household spending in 2009, i.e. during the height of the recession. According to statistics from the Department of Labor, the only consumer expenditure to rise last year was healthcare. And the one that fell the most? Transportation — even outstripping housing.
Maybe we can't help giving mass transit short shrift. Maybe it's just in our DNA.