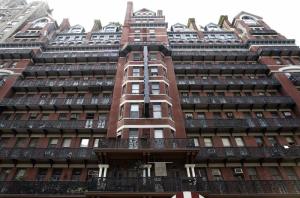 The Hotel Chelsea has had a long, illustrious, debauched run. From its simple beginnings in the 1880s as an apartment cooperative and the city's largest building in the heart of what was then the theater district to a bohemian hayday that saw such residents as Bob Dylan, Patti Smith, Arthur C. Clarke, Robert Mappelthorpe and countless others, the hulking brick edifice on 23rd Street has held a singular place in the city's artistic consciousness.
Of course, there was the recent fallout with the ownership, which had been trying to update the place and was torn between a commitment to artists and profits. The latter seems to have won out as the 15 shareholders who own the property have decided to sell. "Regardless of who owns the hotel, the Chelsea will always be the Chelsea," Paul Brounstein, one of the owners, said in a release. "The hotel will always continue to be a destination for creativity and art, that's what makes it so special. Nothing can ever change that."
Yet Brounstein was more candid with The Wall Street Journal, telling the paper, "The way we want to run the hotel is not necessarily the way the business world works." In the past, ownership was famously forgiving, even accepting art in certain circumstances as compensation. Now? "I think the neighborhood has changed faster than the hotel has, and it has become anachronistic for the hotel not to change as well."
This was bound to happen at some point, as the last of Manhattan's old artistic well runs dry. But with all the competition from its neighbors (see: Standard, Gansevoort, Jane, et al) one wonders if the Chelsea could even keep up. Maybe the secret will be keeping the artists, instead of kicking them out. And people will pay extra for that "authentic" experience.