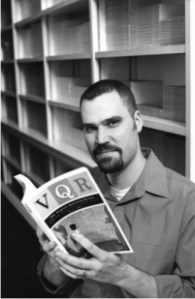 Yesterday, the University of Virginia released its internal audit of the Virginia Quarterly Review, ordered at the request of the school president following the July suicide of managing editor Kevin Morrissey. The review largely exonerates editor Ted Genoways, who had become a focus of the story as the media theorized that his aggressive management style may have contributed to Mr. Morrissey's death.
After reviewing 23,000 emails and interviewing 25 current and former staff members, the report found that there were "no specific allegations of bullying or harassment" prior to Mr. Morrissey's death.
This isn't to say that everything was rosy at the magazine. Mr. Genoways was found "not being courteous or respectful with some contributors and colleagues," as many had reported. In his defense of Mr. Genoways for this publication, VQR contributor Tom Bissell chalked this up to organizational problems, but didn't buck the portrayal, writing, "Paradoxically, as the magazine pulled in National Magazine Award nominations and critical acclaim, Mr. Genoways' relationship to his staff became increasingly toxic."
The report recommends confidential, "appropriate corrective action" for Mr. Genoways, but says that the magazine may continue publishing after its cancelled winter issue. This seems to close the book on a saga that fascinated academics, industry insiders and The Today Show alike.
[via JacketCopy]