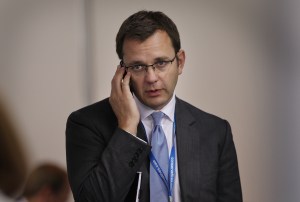 More than a month after The New York Times Magazine story about phone-hacking at Rupert Murdoch's News of the World, the British press is still flushing out the details. British Channel Four talked to a former News of the World executive who said that former editor Andy Coulson had direct knowledge of all phone-hacking at the newspaper.
The source told Channel Four (from The Guardian):
"He was very conscientious and he wouldn't let stories pass unless he was sure they were correct … so, if the evidence that a reporter had was a recorded phone message, that would be what Andy would know about."

"So you'd have to say: 'Yes, there's a recorded message.' You go and either play it to him or show him a transcript of it, in order to satisfy him that you weren't going to get sued, that it wasn't made up."
Mr. Coulson, who is now a communications adviser to Prime Minister David Cameron, said that he couldn't remember any instance of phone-hacking during his time at the newspaper during testimony to the House of Commons in 2009.
Earlier: New York Times Watches as Phone Hacking Story Stirs British Rivals into Action