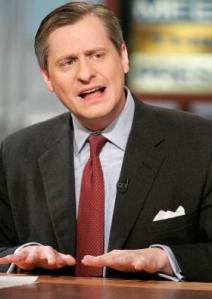 Jon Meacham, who left Newsweek's editorship as Sidney Harmon completed his purchase of the magazine, has landed on his feet at Random House, The New York Times reports from the publisher's announcement. Taking on the dual roles of executive vice president and executive editor, Meacham will acquire and edit the highest-profile non-fiction titles and report solely to publisher and president Gina Centrello.
The news comes less than three weeks after Ruth Reichl, former editor of the shuttered magazine — and current iPad app — Gourmet, took a gig as editor at large at Random House. Really cherrypicking that relvolving door, guys!
For the last six years Random House has published Meacham's works of non-fiction, including American Lion, the Pulitzer Prize-winning biography of Andrew Jackson.