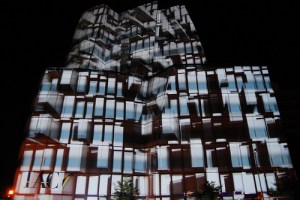 Guests at the Vimeo video awards show this weekend may have thought someone was dosing the punch.
As part of the celebration, the team from Vimeo lit up the Frank Gehry-designed IAC building with a rippling, psychedlic display of green and grey light. A New York Times reporter captured it on video.
The computer-generated projection used the building's odd angles and countless window panes to enhance the geometric patterns rippling across the facade.
It was strange contrast to the somber tone of the Best Video award winner, Last Minutes With Oden, which documented a three-legged dog's struggle with cancer.