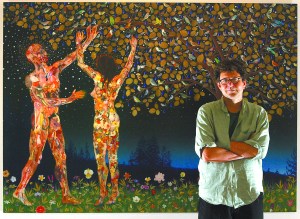 "It's a pretty ferocious little world," Fred Tomaselli said, pointing his right index finger at the central image of a faded Tibetan thangka hanging on the wall of his north Williamsburg studio. "This guy is getting flayed to death, and this one in the center is the angel, but they're both fucking and devouring each other. It's very biker, very metal," he said.
Mr. Tomaselli is known for his own ferocious little worlds–the painter creates intensely intricate mixed-media constellations dancing under layers of clear epoxy resin. His works, which combine pills and leaves next to exacto-knifed images from seed catalogs and ornithology guides, are highly organized, labor-intensive kaleidoscopes against black backgrounds, pointillist in their close-to-surface reveals. "With my work," the Santa Monica-born artist said, slouched in a chair in his studio, "there's the initial frisson, say, of not quite understanding the difference between the real things, the photographic things and the painted things; they all sort of blend together."
'With my work, the differences between the real things, the photographic things and the painted things all sort of blend together.'
Opening on Friday, Oct. 8, is Mr. Tomaselli's first major solo exhibition in New York, at the Brooklyn Museum. A midsize, mid-career survey, the show, which originated at the Aspen Art Museum, includes some 50 paintings, collages and photograms.
At 54, Mr. Tomaselli is fit, with a slight hipster slouch. A reformed L.A. punk in dark washed jeans, a thinly striped button-down shirt and black double-knotted New Balance sneakers, he wears no jewelry save his wedding band and has no tattoos. His left earlobe, though, is long, like flattened Silly Putty, revealing a pinprick hole, the war wound of a lobe once earringed. Although he now drives a carpool for his 12-year-old son and goes home around 6 p.m. for dinner and MSNBC or The Simpsons, there remain tinges of the 20-something surfer kid. He says "far out" not in a Jeff Spicoli way, but rather in admiration of hearing something interesting.
Raised in Orange County in the 1960s to working-class immigrants (his mother worked as a domestic for David Weisbart, the Hollywood producer responsible for Valley of the Dolls). Mr. Tomaselli was deeply affected by the double reality of theme parks and drugs that surrounded him. "It really scrambled my sense of reality. And what's funny is, I think L.A. was sort of a harbinger for the way the country eventually went. This mollification of America, this theme-park-ification, the culture of plastic surgery, I think it started in California and spread like kudzu."
An open drawer under the cushioned bench he uses for naps–"I'm old now, so I nap"–reveals dozens of oversize clear aspirin bottles of pills. Organized by color, size and shape, the pharmaceuticals, which come from his doctor, look more like dulled pearls or Lemonheads and Good & Plenty candy than Oxycotin and Benadryl. A flat filing cabinet nearby houses stacked pages of collage cutouts: Expertly sliced collections of eyes, beaks, arms and penises are ready for use when a certain image is needed for a work. Throughout our interview, Casey, Mr. Tomaselli's assistant of 12 years, is busy packing.
"He's a control freak, if you've noticed," said Brooklyn Museum curator Eugenie Tsai, who has known the artist since the late '80s. "He is so systemic and so organized and yet so unfettered; I find that such an interesting combination. There is this amazing sense of craftsmanship that I associate with the Swiss"–Mr. Tomaselli has dual citizenship, as both his parents were Swiss immigrants–"this meticulous ability and all the little cutout things, it's incredible."
Given Mr. Tomaselli's deeply methodical organization, Aspen Art Museum director Heidi Zuckerman Jacobson's idea to arrange the show taxonomically–an orderly breakdown of the artworks by "species"–makes a lot of sense. Ms. Zuckerman Jacobson said she chose the taxonomical organization because she wanted to impose upon Mr. Tomaselli's works the same classification rubric that he uses within them. (Mr. Tomaselli admits he told her, "That's a terrible idea," but it grew on him.) Now, three main galleries comprise the show, the first room focusing on Mr. Tomaselli's abstract works, the middle gallery grouping together his more figurative pieces and the third room acting as an aviary of sorts with his more recent bird paintings. The organization also worked out to be more or less chronological. "I felt that a selective survey was very ripe and appropriate at this point in Fred's career."
Mr. Tomaselli's use of marijuana leaves and pills, combined with the psychedelic jewel tones and patterns formed by the materials, have earned him a reputation as "the drug guy." Ms. Zuckerman Jacobson laments, "I wanted to break that. The pills were a sentence-ender, but there is so much more." And the exhibit follows that transition and shift in focus. The first gallery includes collage paintings, almost all including pills or made exclusively of pills, such as the minimalist Black and White All Over; the second and third gallery mark Mr. Tomaselli's ascent into the Baroque–deeply detailed splendors, some cobbled into a whole from up to 10,000 tiny images. In Starling, one of the works created intently for the Brooklyn Museum exhibit, the bird's throat, chest and stomach is collaged with green bugs, ostensibly the food the bird has digested. "It seems more about his immediate life but maybe it's just that his life is shifting," said Ms. Tsai.
The show also marks an evolution of Mr. Tomaselli both as an individual and as a painter. Ms. Zuckerman Jacobson noted, "In his most recent works, he really paints in a way that he didn't before. The early works were paintings, but there was really no paint in them." The works in the final gallery reveal enormous birds of collaged materials surrounded by swaths and swirls of painterly impasto. Unlike his other works, these most recent paintings are raised and tactile to the touch, with the paint on the surface rather than trapped under the slick veneer of resin.
Indeed, the show at the Brooklyn Museum is seminal for Mr. Tomaselli, who sees it as one of many life shifts currently facing him–his studio move to Bushwick, his son soon entering teenagedom, his longtime assistant marrying Mr. Tomaselli's neighbor. "There aren't going to be many more visits to this studio," he said, looking out the windows onto Driggs Avenue, a tinge of nostalgia on his breath.
Mr. Tomaselli moved to Williamsburg from California in 1985 and identifies deeply with the borough. While lunching at the museum cafeteria, a Brooklyn Museum curator asked why he was excited to have the show there. "Because it looks so good and I live in Brooklyn!" he said with a shrug and a grin, going back to his mac 'n' cheese. He owns a home near the Graham Avenue L Stop, has been an eyewitness to the hipsterfication of Williamsburg and is ready "to get the hipsters out of my hair" and move to Bushwick–or as he calls it, Bougewick. The painter Amy Stillman, an old friend of Mr. Tomaselli's, convinced him to check out the swanky converted industrial building that houses his new studio near the Morgan Street L Stop. "The place is nicer than it has to be; it's super-deluxe, super-yuppie." The two-room studio formerly housed a PR firm that outfitted it with slick cubicles and solar panel lighting. "I'm going bourgeois, and I feel really weird about it. I'm not sure how to make it messy. I have to fuck up the floors right away."
The area "kind of reminds me of Williamsburg 20, 25 years ago," said Mr. Tomaselli. In 1985, moving from Los Angeles, he got a $300-per-month storefront apartment in the then still dubious 'burg. "It was messed up around here a little bit then. I got mugged a couple of times; there were drug dealers everywhere"–all said with a grateful nonchalance–"literally. I didn't see anyone that looked like an artist when I got here, but you know they were around, they were in little nooks and crannies. You see somebody with an Act of God haircut and you go, 'Oh, they went to college, they're some arty person.'"
"I've lived my abject lifestyle; I don't want to do that anymore." He admitted he enjoys getting The New York Times delivered to his door and having access to a 24-hour bodega, and unlike a Bushwick Freegan he recently read about, he prefers not to have bedbugs. In fact, when he recently bought some clothes at the Gap, he made sure to throw them in the dryer to zap any potential predator. Of Williamsburg today, he said, "I'm very happy not to get mugged, but it could have stopped changing here 10 years ago and I would have been happy. Williamsburg used to be ugly and cheap; now it's just ugly and expensive. I've never lived anywhere else in New York. I forgot to move to Park Slope, I guess, I forgot to be a yuppie.
"It's the end of my era here," Mr. Tomaselli mused to himself more than to The Observer, looking around the room. "Maybe I'll move into this fancy new studio and be completely blocked. It could be paralyzing." His assistant, Casey, reached up for the globe suspended from the ceiling to the right of Mr. Tomaselli's drafting table and placed it softly in a cardboard box just its size. "No, it seems like a good time to shake things up a little bit." After all, "I've got my little mid-career retrospective going on."
cmalle@observer.com