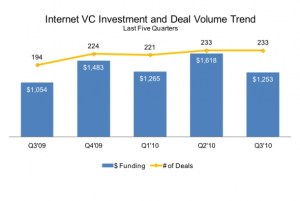 Fred Wilson dug through the new numbers from CB Insights on venture capital investments in tech this morning. Tech Observer noted this morning that New York was beating Boston in terms of new startups.
Wilson agrees, although he makes a subtler point. He highlights this data point, first noted by Om Malik:
San Francisco saw 36 Internet deals that brought in $131 million, while New York City saw 31 Internet deals garner $126 million. In comparison, Mountain View, San Mateo & Palo Alto saw 21 deals focused on the Internet and they brought in a total of $174 million.
For Wilson, the takeaway is that New York is a cheaper, more efficient place to create a web-based startup, the fastest growing area of investment according to the CB report.
"If you want to talk about capital efficient web servics, then there are two ideal places to start them, San Francisco and NYC," writes Wilson. "How about the valley? Well, there you apparently need to spend more money. The average Internet deal in SF and NYC was $3-4mm. In the Valley, it was over $8mm. I'm pleased to see NYC getting the attention it deserves. NYC hasn't been a technology hotbed since Bell Labs left town in the 50s, but now in the age of Internet startups, it sure is."
Wilson and Tech Observer obviously have skin in the game when it comes to the future success of Silicon Alley. But the hard numbers show that investors from around the country are increasingly turning to New York in their search for the net's next big thing.