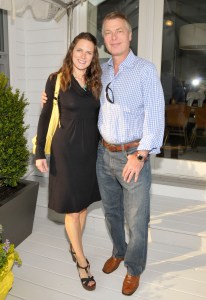 Earlier this morning, Richard Johnson announced in a Page Six item that after nearly 25 years running the New York Post's gossip column, he is moving to Los Angeles to work on "new digital ventures for News Corp."
The Observer called several of Mr. Johnson's former colleagues to get their reaction to his departure and talk about the future of the column.
"It's a measure of his success that they didn't want to let him go," said George Rush, who worked with Mr. Johnson at Page Six in the late '80s and early '90s. "This is a way of holding on to him and building on what he achieved."
"For a generation of gossip columnists, Richard defined the game and his longevity is not something that anyone should take for granted," said Ben Widdicombe, who began working for Page Six in the late '90s. By his count, reporters normally burn out doing gossip reporting after 18 months.
Mr. Widdicombe started working on the column as a substitute while Mr. Johnson was on vacation, and he sat at Mr. Johnson's desk. "It was such an education about how the business works to answer Richard Johnson's phone," he said. He later competed against Mr. Johnson while running Gatecrasher for the Daily News.
"It was a thrill," Mr. Widdicombe said.
Frank DiGiacomo, a Page Six veteran himself who has been running Gatecrasher since the summer, did not return requests for comment.
"A lot of us who have been at this a long time — you know, we don't want to work as hard. He probably doesn't want to work as hard," Mr. Rush said. "California is famous for being a place where people don't work as hard as they do in New York."
"After more than two decades, everybody gets tired," said Neel Shah, who left the column in June to write for television in Los Angeles. He moved west this summer to work as a staff writer for the NBC show Friends with Benefits.
"I'm sure Los Angeles has a certain appeal to somebody who's been in New York for so long," Mr. Shah said. He was in his car stuck in traffic on the way to work.
"I don't think that replacing him will be easy if at all possible," Mr. Shah continued.
Emily Smith will take over the column from Mr. Johnson after working under him for the last year. Ms. Smith is a former editor at The Sun, which is also owned by Rupert Murdoch, and Life & Style. The Post touted her "Fleet Street" credentials in the announcement this morning.
"What I like the most about her is I see her out and about with a tape recorder and notepad," Mr. Widdicombe said of Ms. Smith.
Page Six "is the best gossip column in the world — and it's only going to get better," Post editor Col Allan said in the announcement this morning. Both Mr. Allan and Mr. Johnson declined to comment.
Mr. Johnson leaves quite the legacy behind him. "I was sort of in awe that he kept his composure for so long and was able to do what he did. He was a consummate professional and really, really good at what he did," said Mr. Shah. "It's not an easy job but he made it seem easy."
"This is a big game-changer," Mr. Rush said. "Richard was without peer."
zturner@observer.com / @zekeft
SLIDESHOW: 10 of Page Six's Best Items Since 2007
CORRECTION: An earlier version of this post stated that Mr. Widdicombe worked at Page Six in the early '90s. He was with the column starting in the late '90s.