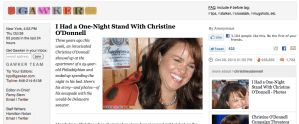 Just four hours after Gawker published a first-person anonymous account of a man who "slept with" Delaware senate candidate Christine O'Donnell, the story has accrued over 300,000 hits and incited the ire of those who question its necessity and taste.
Gawker Editor Remy Stern talked to The Observer about the way the piece was handled and, in the face of widespread criticism, defended the site's approach.
"Some people think we were passing judgement on her, and that's not the case at all," Stern said on the phone. "We've sort of humanized her." He also added that "It had nothing to do with the fact that she was a woman," rather that she was a prominent candidate caught contradicting her political views days before an election.
Stern confirmed that Gawker Media did pay in the low four figures for the story and photos, placing it in line with other purchased scoops such as Gizmodo's iPhone 4 story last April and the Deadspin story on Brett Favre's seductive voice mails, published earlier this month. Stern also addressed the decision to run the post with an "anonymous" byline, instead of incorporating the source's account into a story penned by a Gawker reporter. "The most important thing was he remained anonymous," Stern told us. "He talked to other media outlets, but was concerned that a tabloid would imply that they had sex, which they did not." (Still, the link-baiting headline that Gawker ran with — "I Had a One-Night Stand With Christine O'Donnell" — wasn't exactly subtle.)
It's not often that the site presents an anonymous narration, without commentary beyond a short introduction, but Stern said this approach felt "more honest and authentic." "In the end, this is who he is," he told us. "Sometimes they can tell the story better than we can. Sometimes you have to step out of the way and let them tell their tale."
Details regarding who exactly this person might be have come to light in the hours since the story went up. Foster Kamer at the Village Voice used the clues at hand to suggest that the "anonymous" tipster could be Philadelphia resident Brad Kurisko. Confirmation on this link, from Gawker or elsewhere, has yet to come.
We asked Stern how Gawker went about verifying the story, and he said they matched pictures of the source from that night (he was cropped out of the photos) with other pictures of him, and fact-checked details such as the address and identity of O'Donnell's aunt. Nonetheless the allegation of what happened between the author and O'Donnell remains unproven.
Not every tidbit got included in the account. "We did have to make some judgements," Stern said. "There was some salacious stuff that we didn't put in."
O'Donnell's waxing habits circa 2007, however, made the cut.