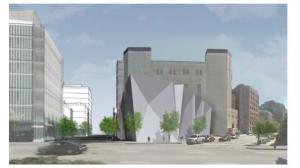 Part of the reason it has taken years for the celebrity-maligned Spring Street dump truck garage to get off the ground is that the city's secretive Public Design Commission has rejected numerous proposals for the project. Given the huge building's controversial nature — garbage in tony west Soho? My word! — and prominent location on the West Side Highway, the commission has been exacting in specifying a premiere design from Dattner Architects. And that goes not only for the huge eight-story garage but also the adjoining salt station, where the Department of Sanitation loads up on snowy days to clear downtown streets.
Curbed spotted the latest design for the salt shed, now in its fourth iteration. Apparently the commision wanted "something more 'sculptural' with an 'iconic presence.'" Be careful what you wish for, as the new design is modelled on a salt crystal. It's about the most literal-minded piece of architecture the Real Estate Desk has seen since the Statue of Liberty. (Which is a stretch, really — Lady Liberty is figurative. So, in fact, there's nothing quite so literal in the city as this stupid shed.) It might be nice looking, but such a reductive piece of architecture shows an ultimate lack of creativity. Why not just build a giant silo and dress it up like a Morton's salt can?
Not surprisingly, the community was none too thrilled, either, and not just because they don't want to be breathing salt dust on top of the garbage fumes:
Finally, a neighbor and former CB2 Board Member spoke about the architectural disconnect between the old historic brick structures still on Washington Street, the new all-glass wonders by Philip Johnson and others, and the proposed all-concrete "iconic" aspirant. Another neighbor grabbed the microphone and suggested that on such a quiet corner the smooth concrete surfaces would soon be tagged with graffiti…DSNY responded that they had two mobile graffiti removal trucks waiting in the wings.