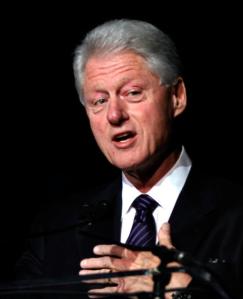 Senator Kirsten Gillibrand is trying to bank a little extra money off her upcoming fundraiser with Bill Clinton.
Gillibrand's campaign–which reported $3.5 million dollars in cash on hand earlier today–emailed its supporters this afternoon, offering a chance to win tickets to the Clinton event later this month. (The campaign is asking for donations of at least $5 to be entered in the contest, but officially, one isn't required.)
"In 2006, when I was down in the polls and the pundits counted me out, he came to Upstate New York to help us get out the vote," Gillibrand wrote in the email. "He believed in me, and the result was an amazing come-from-behind victory."
Gillibrand is leading her challenger, Joe DioGuardi, by a healthy double-digit margin, but the campaign is not taking any chances in what promises to be an unpredictable election year.
"Republicans are counting on us to sit on our hands, grow complacent, and not show up to fight on Election Day," she wrote in the email. "I refuse to let them have their way. President Clinton refuses to let them have their way."
Clinton has been stumping hard for Democrats this cycle, including a few New York stops.
Here's the email:
Friend–

No one can energize a room quite like President Clinton.

In 2006, when I was down in the polls and the pundits counted me out, he came to Upstate New York to help us get out the vote. He believed in me, and the result was an amazing come-from-behind victory.

Once again, people are buzzing with doom and gloom for Democrats, and once again President Clinton is coming to New York to help us big on Election Day – just 15 days away.

The grassroots are a huge part of this campaign, and I want you to be a part of what promises to be a tremendous event Saturday night.

Give $5 or more before midnight October 21 and you'll be automatically entered in a contest to win two free tickets to our event with President Bill Clinton! We need everyone to do their part during our final push to victory.

Click here to contribute $5 or more to my campaign. Act before midnight October 21 and you'll get a chance to attend a special event with President Clinton!

I have always been so grateful for the faith President Clinton has shown in me and the hard work he's put in on my behalf. I'm truly honored to have him by my side once again.

Remember, if you make a contribution, although one is not required to enter, it will not only put you in the running to attend this unique event, but it will help my campaign keep our ads on the air and keep the pressure on my opponent.

There's just no more time to wait.

Click here to contribute $5 or more to my campaign. Act before midnight October 21 and you'll get a chance to attend a special event with President Clinton!

Republicans are counting on us to sit on our hands, grow complacent, and not show up to fight on Election Day. I refuse to let them have their way. President Clinton refuses to let them have their way.

Right now, we need you to stand up and tell the Republicans you're ready to defend all the progress we've made. Please make a contribution right away.

Sincerely,
Kirsten