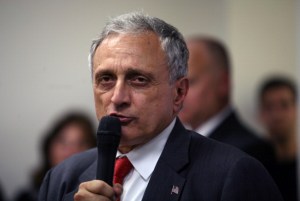 Yesterday in Long Island, Carl Paladino called Senator Kirsten Gillibrand the "little girl" of senior Senator Chuck Schumer.
And, just to confirm it wasn't a slip-up, he repeated the charge in Albany that afternoon.
"She does exactly what Schumer tells her to do," Paladino told the Daily News' Ken Lovett. "If that's the kind of government you want, well, she'll probably be very good. She follows in whatever he wants her to do, so she is his little girl."
The charge is a familiar one for the junior senator, who the Post once cast as Schumer's parakeet.
Gillibrand's campaign emailed a response this morning, echoing her familiar response that she "takes a back seat to no one," and adding some thoughts about Paladino and his candidacy.
"The fact is that I don't take a back seat to anyone when it comes to fighting for New York. While I have delivered solutions, Mr. Paladino has delivered insults," she wrote in the statement.

"Mr. Paladino's campaign has been a disservice to New Yorkers. His divisive behavior and name calling is offensive to women and unacceptable in any circumstance."